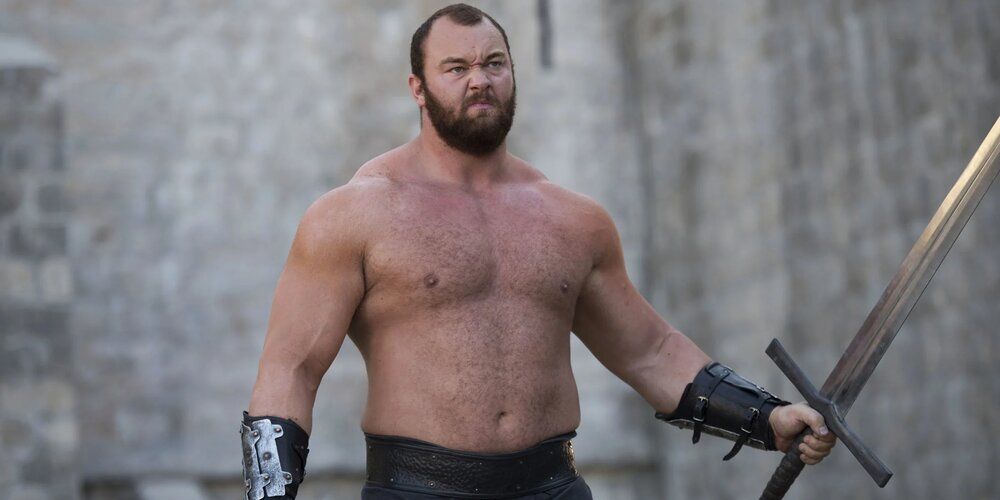 Hafþór Björnsson, who portrayed Gregor "The Mountain" Clegane on HBO's Game of Thrones reveals his 132-pound weight loss in a new selfie.
Björnsson shared before-and-after photos on Twitter, the before from 2020, which he lists as his "peak strength," where he weighed 205 kilograms (451.9 lbs.). The photo was taken around the time he broke the world deadlift record However, the other photo, from 2022, is Björnsson at his "peak fitness," now weighing in at 145 kilograms (319.67 lbs.). As he continues to pursue boxing, Björnsson dropped well over 100 pounds in the last two years, a fact also noted in his caption: "Full Thor vs Half Thor."
In May 2020, Björnsson set a new world record after he deadlifted 501 kilograms (1,105 pounds), around the time his "peak strength" photo was taken, a record previously held by fellow strongman Eddie "The Beast" Hall, who Björnsson is set to fight in an upcoming boxing match sometime in 2022. Björnsson is an accomplished strongman competitor and, beyond breaking world records, has won the Arnold Strongman Classic, Europe's Strongest Man and the World's Strongest Man competition.
For now, Björnsson is continuing to pursue boxing, becoming the sport's first titan weight fighter in January 2021. At the time, the actor weighed 344 lbs., placing him far above the 200-pound heavyweight benchmark for professional boxing. "The first TITAN WEIGHT fighter in history, ready to take on this new challenge," Björnsson said at the time. "I'm excited, and I hope all of you are too champs!"
Björnsson's most recent fitness update comes a few months after another photo he shared of his incredible physique, which he posted in September 2021, just ahead of a boxing match against Devon "No Limits" Larratt. Björnsson was originally supposed to fight Eddie Hall in a match titled, "Heaviest Boxing Match in History," but due to an injury on Hall's part, the match was postponed to 2022.
"I've been in Dubai for almost five weeks now ahead of my fight on September 18th," Björnsson said about the match in an interview Muscle and Health. "This will be my third official fight in preparation for my main opponent and the very reason I started this boxing journey – Eddie Hall. When Eddie announced he'd torn his bicep and we had to postpone the fight until 2022, of course, I was disappointed. I've been training so hard for that specific fight, but there's nothing we can do, he's injured, so we had to move forward and reschedule."
KEEP READING: Game of Thrones Dragon Gets Life-Size, Fire-Breathing Sculpture
Source: Twitter, Muscle and Health
This content was originally published here.